Ogawa's Garden Kansuien
Ogawa's garden has a "Front yard" facing the main street, a "Courtyard " in between the main building and a storehouse, and a "Kansuien" in a separate section along the Hachiya River. (The forecourt and courtyard are currently closed to the public.)

Kansuien is a large scale garden with a path around ponds, about the size of 32m from east to west and about 40m from north to south. In the center of the east side, there is a neat garden gate, and in the center of the south side, there is a tea house called "Nanzanso" as a central point of appreciation. In front of Tea house, there is a pond and artificial hills were built on three sides around it. The south waiting seat, the five-storied pagoda, and the north seat are arranged on the top of each artificial hill. Between the south waiting seat and the five-storied pagoda, there used to be a thatched-style tea house called Senshintei, but now only the foundations of the building remain.

"Nanzanso" is a copy of Kanden-an (National Important Cultural Property), which is said to have been designed by Harusato Matsudaira (1715-1818), the lord of the Matsue domain, and was relocated from Misasa ". In 1945-1947, Tatehiko Suga was evacuated from Osaka. While staying there, he drew a binding painting of "Sasameyuki" by Junichiro Tanizaki.

The water of pond is directly drawn from the Hachiya River, and is returned to the river by going around Kamejima and a pond in front of the tea house "Nanzanso". The garden path around the pond uses stone steps, steppingstones, and pavement made of colorful small gravel, with a creative technique as such waterfalls, wells and small ponds etc. are arranged in various places.

In addition, it is also the feature of this garden by having the skillfully constructed path with about 30 stone lanterns and stone pagodas, historical materials such as the railings of the Ogamogawa Bridge and Osaka signposts, as well as monumental red brick chimneys, etc., placed here and there. A 13-storied pagoda is built on the hillside of Mt. Suido, which can be seen from the north side of the pond behind Nanzanso, adding an accent to the borrowed scenery. The flowers and trees are also different from the garden of the main house, with large trees arranged around, and there are many kinds of flowers and trees (about 400) including wisteria trellises, exhibiting colorful planting of four seasons beautifully.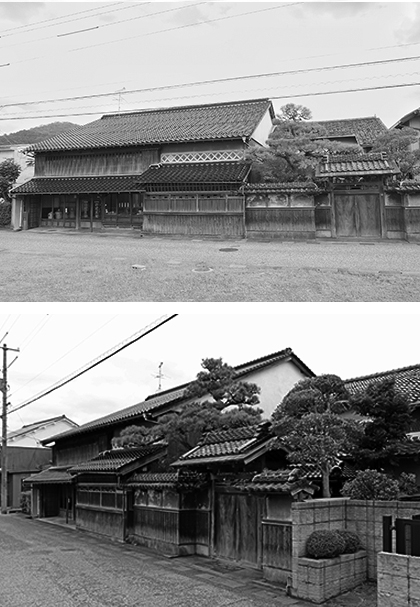 Ogawa Landlord's House